BLOG POST
Leveraging Geospatial Data for Enhanced ESG Transparency and Accountability: Exploring Satellite-Driven Use Cases
ESG & Sustainable Development
Last edited: August 8, 2023
Published: August 8, 2023
Orbify Team
Earth Intelligence Specialists
Abstract
In the dynamic landscape of Environmental, Social, and Governance (ESG) trends, the year 2023 marks a pivotal juncture with an escalating focus on ethics, integrity, and meaningful action. This article explores how geospatial data, harnessed from Earth observation technology, can contribute to ESG trends by offering transparency, accountability, and reliable insights. Using real-world examples such as air and water quality assessment, and satellite-enabled deforestation tracking, we demonstrate the practical application of geospatial data in fostering accurate disclosures, progress tracking, and informed decision-making within the ESG realm.
Introduction
In an era defined by increased skepticism and demand for accountability, the ESG performance of both public and private sectors is under unprecedented scrutiny. Consumers, investors, employees, and regulators are rallying for genuine, impactful actions rather than mere intentions. This trend prompts organizations to seek innovative ways to validate and communicate their ESG efforts. Geospatial data, harnessed from Earth observation technology, emerges as a crucial instrument for substantiating claims, tracking progress, and enabling informed ESG decision-making.
Air and Water Quality Assessment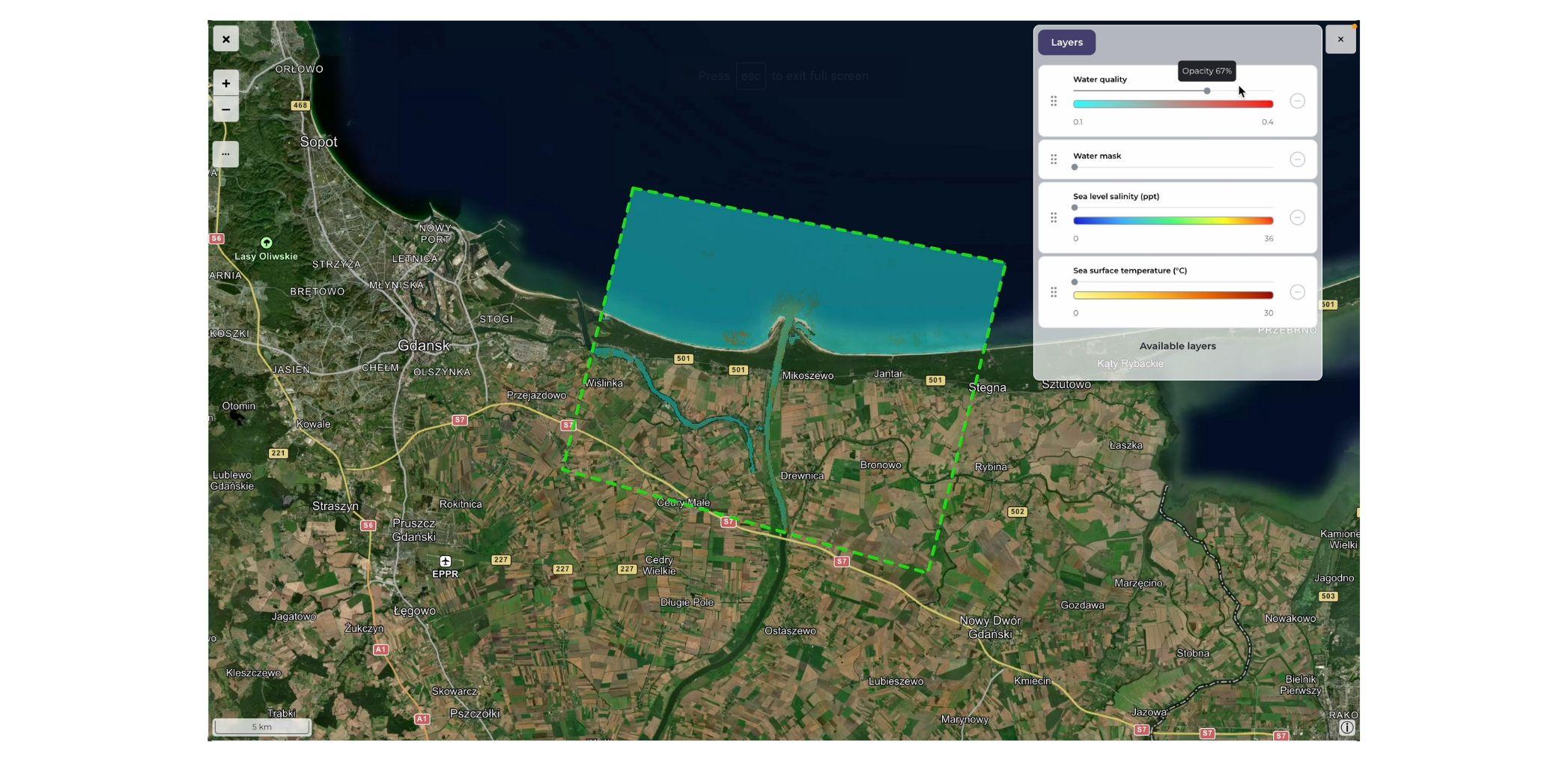 Water quality indicators (Orbify GDP)
A significant aspect of ESG relates to the environment, particularly air and water quality. Satellite-based remote sensing technologies can play a pivotal role in assessing these parameters. For instance, satellites equipped with multispectral sensors can monitor the distribution of pollutants and aerosols in the atmosphere. By analyzing satellite-derived data, organizations can showcase their efforts to reduce air pollution and enhance air quality in compliance with ESG goals. Similarly, satellite observations of water bodies can provide valuable insights into water quality, enabling organizations to demonstrate their commitment to responsible water resource management.

Satellite-Enabled Deforestation Tracking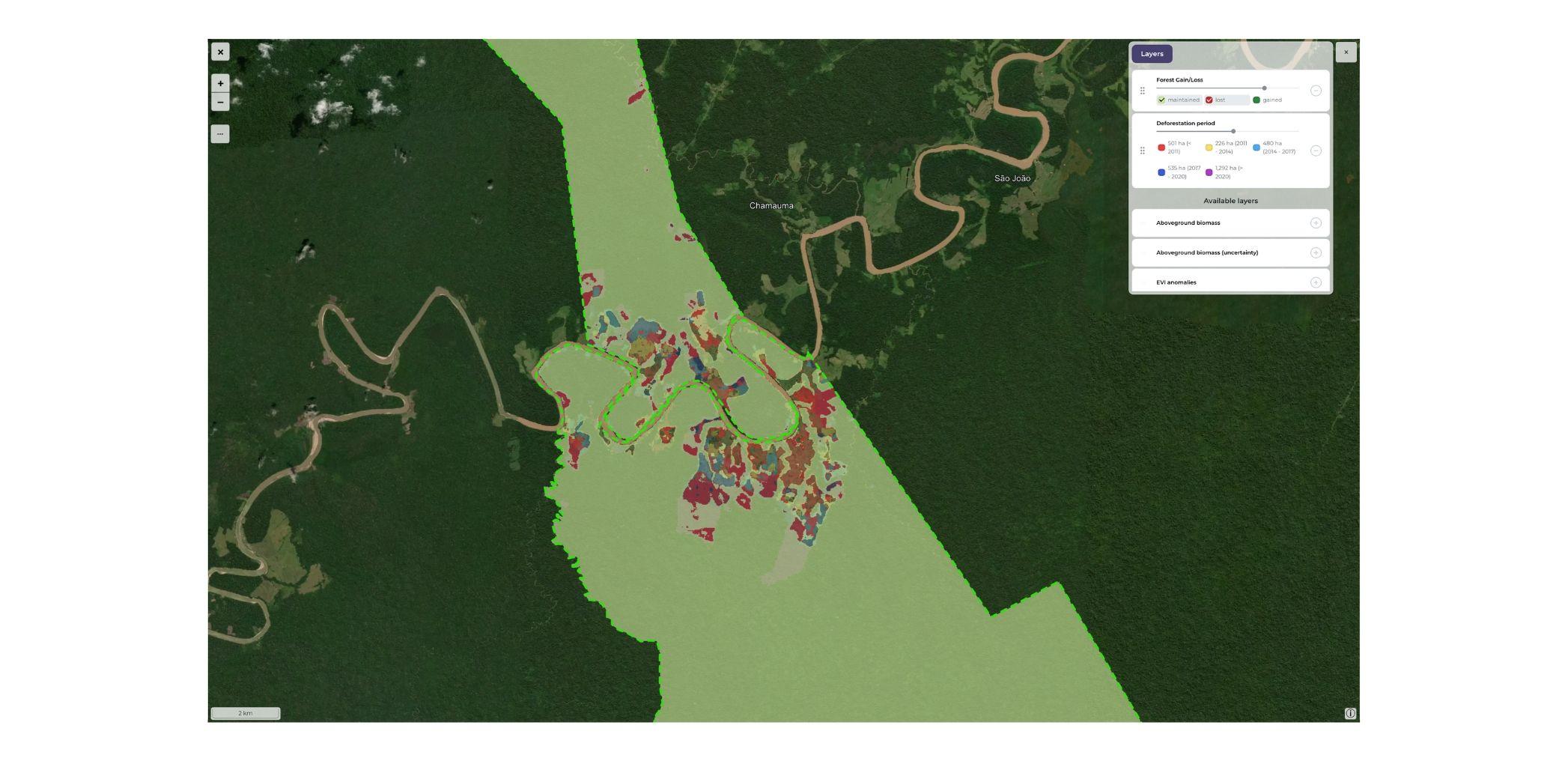 Deforestation stands as a critical concern in the realm of environmental sustainability. Geospatial data from satellites equipped with high-resolution imaging capabilities can enable the monitoring of deforestation rates and changes in forest cover. Through time-series analysis, organizations can quantify their efforts to combat deforestation and protect biodiversity. This tangible evidence of preservation aligns with ESG ambitions, demonstrating a commitment to responsible land use practices.
Progress Tracking and Accountability
ESG journeys are gradual processes that require time for meaningful impact. Geospatial data empowers organizations to demonstrate their progress transparently. For instance, emissions reductions can be tracked using remote sensing techniques, providing quantifiable evidence of strides towards net-zero goals. These data-driven insights serve as a visual testament to an organization's commitment and provide a basis for credible reporting.
Informed Decision-Making for Investors
Investor interest in ESG-aligned businesses is burgeoning, accompanied by an augmented demand for transparent ESG information. Geospatial data equips investors with data-backed analysis, enabling them to assess ESG performance accurately. Analytics tools empowered by geospatial insights can reveal intricate relationships between sustainability themes, thereby fostering 'just transition' strategies to low-carbon economies. As investors increasingly prioritize companies with strong ESG standings, geospatial data serves as a vital resource for aligning investment strategies with sustainability goals.
Challenges and Recommendations
While geospatial data presents immense potential, challenges persist in its integration into ESG frameworks. Data accuracy, quality, and interpretability are key considerations. Collaborations between Earth observation experts and ESG professionals are imperative to ensure the meaningful utilization of geospatial data. Organizations must also navigate reputable reporting frameworks and third-party assurance mechanisms to back their ESG claims with credibility.
Conclusion
The convergence of ESG ambitions and geospatial data heralds a new era of transparency, accountability, and tangible action. In 2023, as organizations strive to translate intentions into reality, the utilization of Earth observation technology offers a pragmatic solution. Geospatial data empowers organizations to substantiate claims, track progress, and make informed decisions – building a resilient bridge between sustainability aspirations and genuine impact. As the ESG landscape continues to evolve, geospatial data stands as an invaluable asset, propelling us towards a more sustainable future.
Keywords: ESG, geospatial data, Earth observation technology, sustainability, transparency, accountability, progress tracking, informed decision-making, air quality, water quality, deforestation tracking.