BLOG POST
Geospatial ESG Series 2
ESG & Sustainable Development
Leveraging Data for Sustainable Reporting and Analysis
Last edited: July 13, 2023
Published: July 13, 2023
Orbify Team
Earth Intelligence Specialists
This article is the second part of this series of posts that will be focused on explaining and show case studies about the Geospatial ESG and how you can take advantage of our platform to boost your report and analysis.
Geospatial ESG - Part II
Welcome to the second instalment of our ESG-focused blog series. In our first blog of the series, where the focus was on the E - Environmental, we highlighted the theoretical use of  geospatial data to perform different analyses and be able to confidentiality report the detection of various activities and assessment of operational footprint.
This time we delve into the practical applications of geospatial data in Environmental analysis. We will explore two concrete case studies that showcase how geospatial data can be utilized to enhance ESG reporting and shed light on environmental and socio-economic impacts.
Case Study I: Mining Extraction Development
Illegal mining has emerged as a serious issue in Brazil. It poses significant environmental and socio-economic challenges, leading to deforestation, water pollution, displacement of local communities, and disruption of fragile ecosystems.
In response to the severity of these issues, mining companies need a thorough record-keeping system to demonstrate land rights and measure the environmental and socio-economic effects within specific areas. These reports must include transparent disclosure of vital information such as land rights, infrastructure development, and measures implemented to mitigate the adverse effects of mining operations.
Geospatial data, particularly satellite imagery, provides a valuable tool for companies to accurately assess and report on the extent of their mining activities.
Let's take a closer look at an example in the state of Para: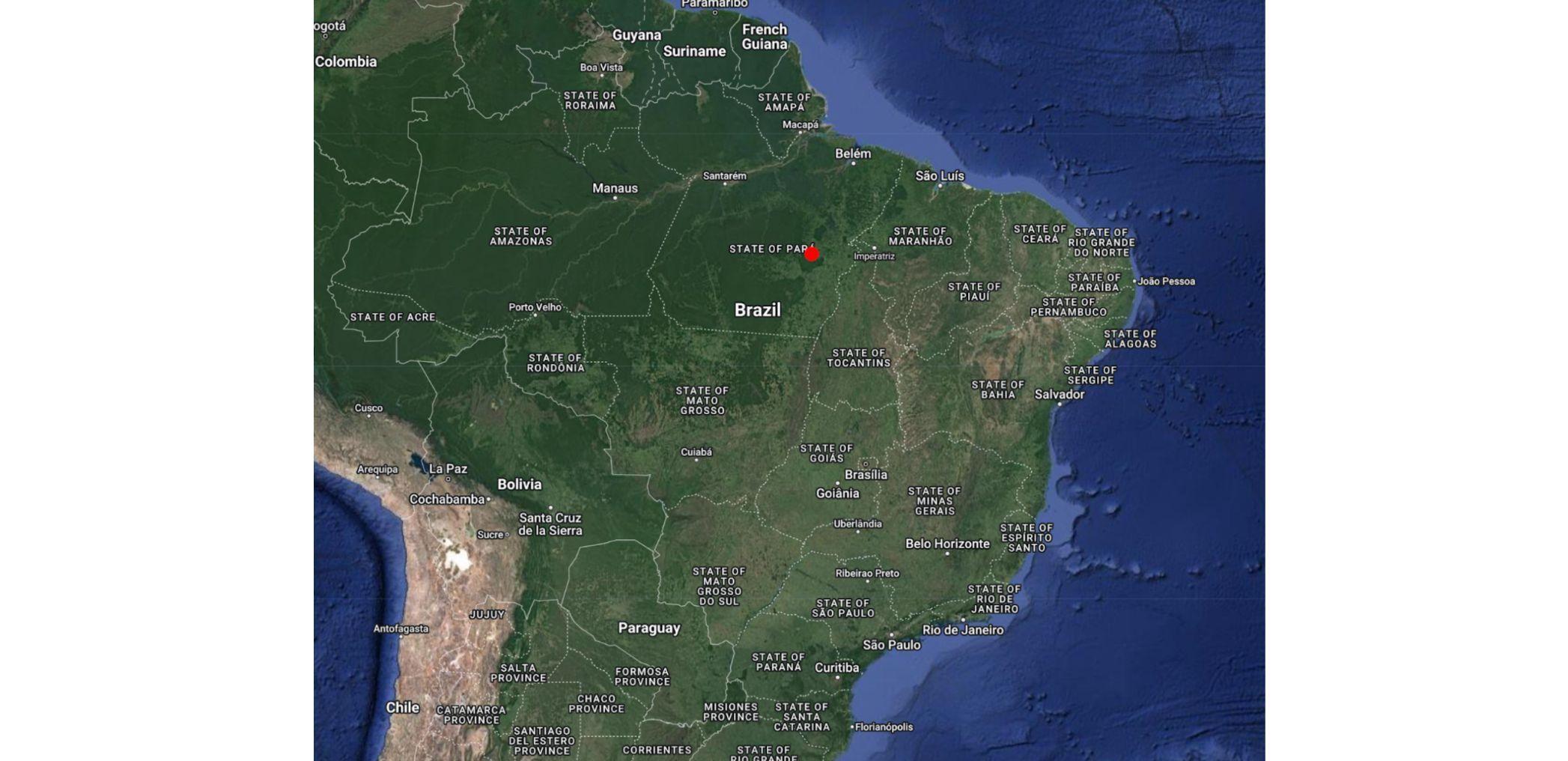 By comparing satellite images from 2017 and 2022, we observed a substantial expansion of approximately 500 hectares, equivalent to 2.5 times the size of Monaco at the cost of forest. The images below vividly portray the development of the mining area and directly related forest loss: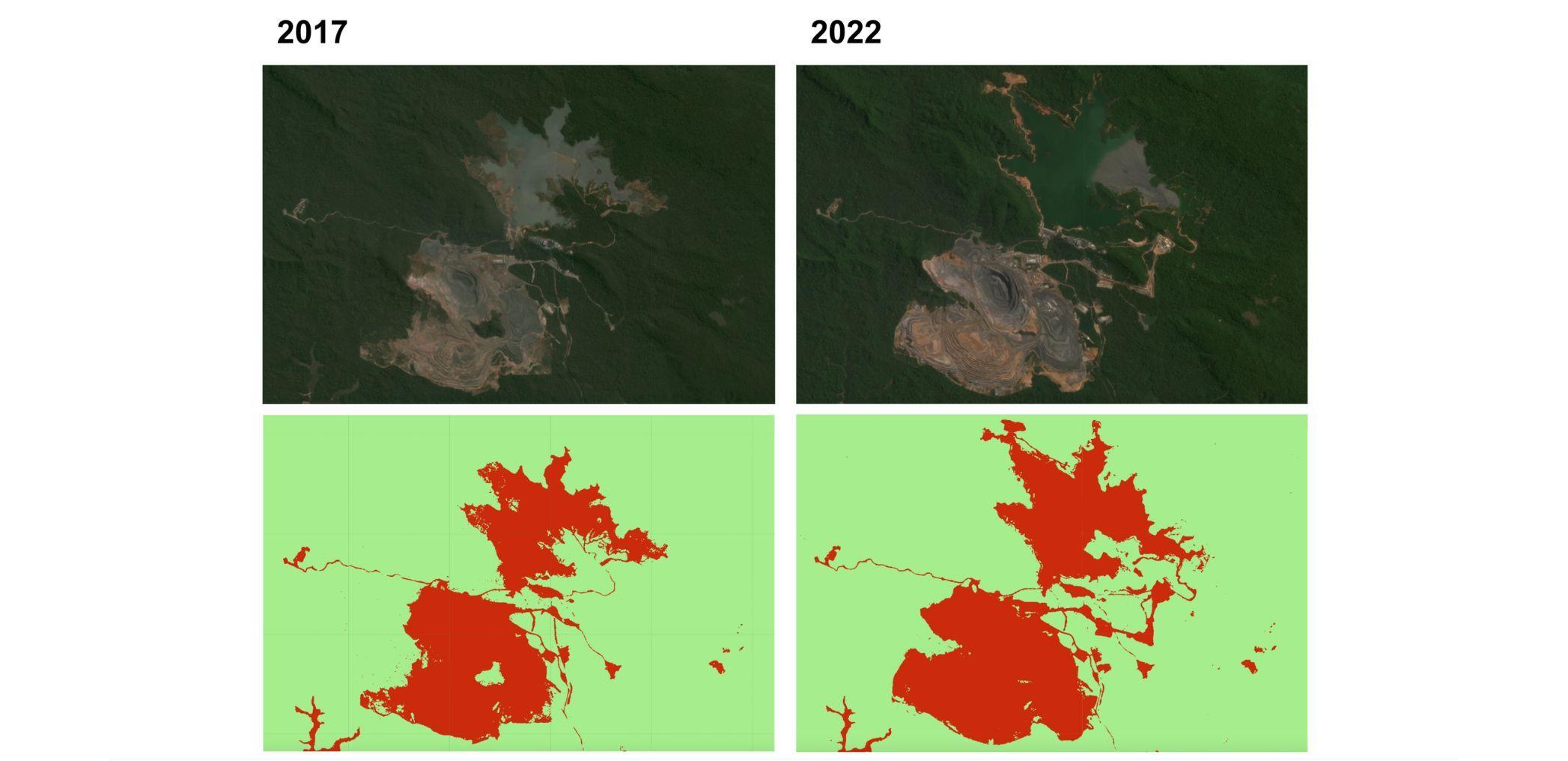 As seen in the example above, geospatial data can play a vital role in assessing the impact that has already taken place.
However, the same data can and should be used in land rehabilitation and closure planning for mining operations. It helps companies identify suitable areas for reclamation and develop comprehensive plans to restore ecosystems and minimize long-term environmental impacts. Geospatial data can assist in monitoring the progress of rehabilitation efforts and provide evidence of successful restoration in ESG reporting.
Case Study II: How the road expansion can model a landscape?

Our second case study focuses on the use of geospatial data to identify areas where road development has led to an increased risk of fire incidents.
Road expansion, while often necessary for economic development and improved connectivity, can have adverse impacts on the environment and local communities. It can lead to deforestation, habitat fragmentation, increased carbon emissions, and disruption of wildlife corridors. Recognizing the potential harm, it is crucial for companies to report on their projects' environmental and social implications. They should assess the potential risks, implement mitigation measures, and disclose information on the extent of deforestation and community displacement caused by road expansion.
We turn our attention to the southern part of the Indigenous Land, Trincheira Bacaja, in Brazil's Para state. This area is particularly vulnerable to deforestation, which puts this area under high risk.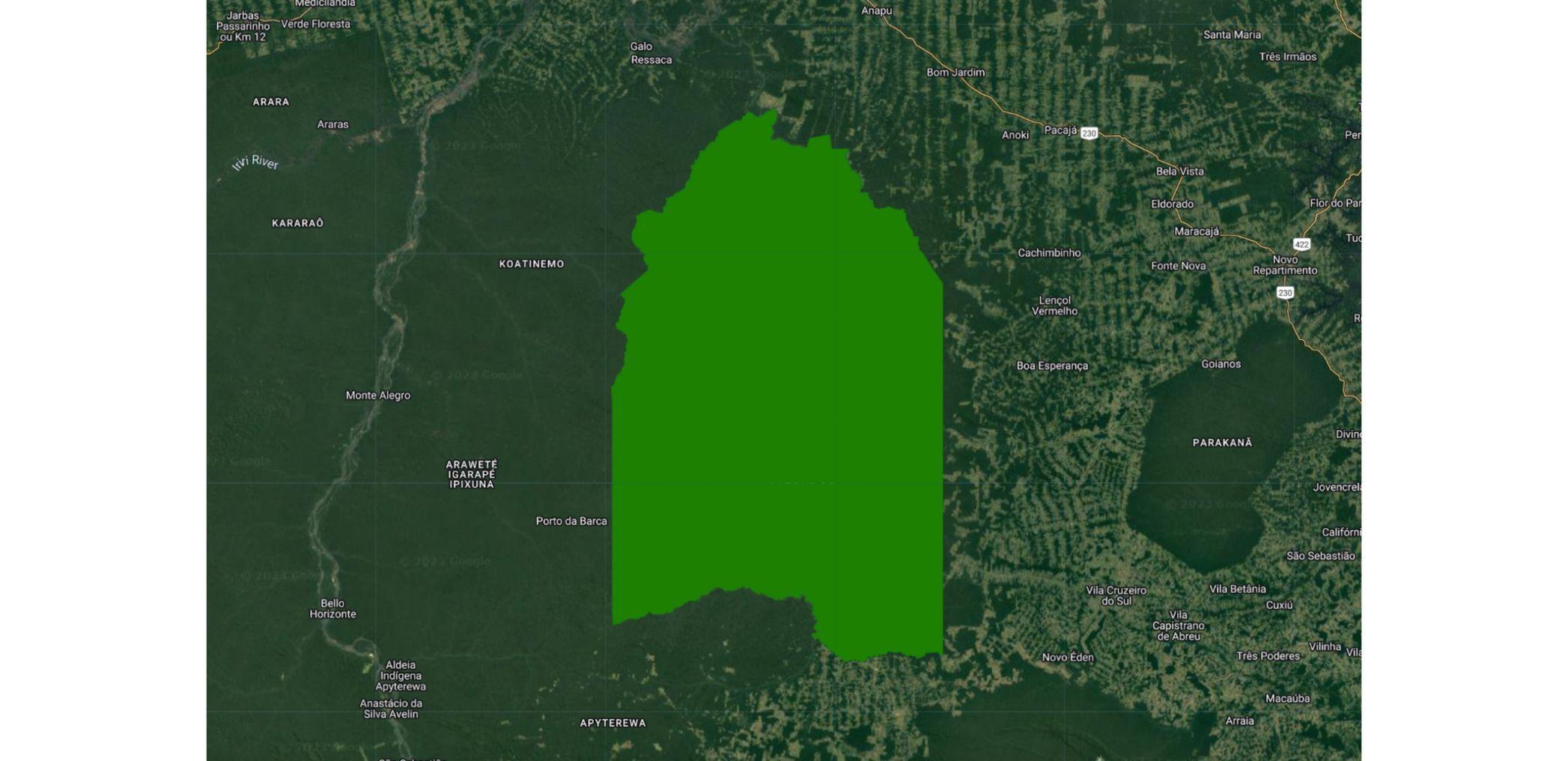 So when we look at the the bottom right of the area we can see that from 2017 - 2022 it had some roads expansions, following these roads that had growth to the inside of the indigenous land from 2017 - 2021 we can see as well that some deforestation patches appeared surrounding that roads: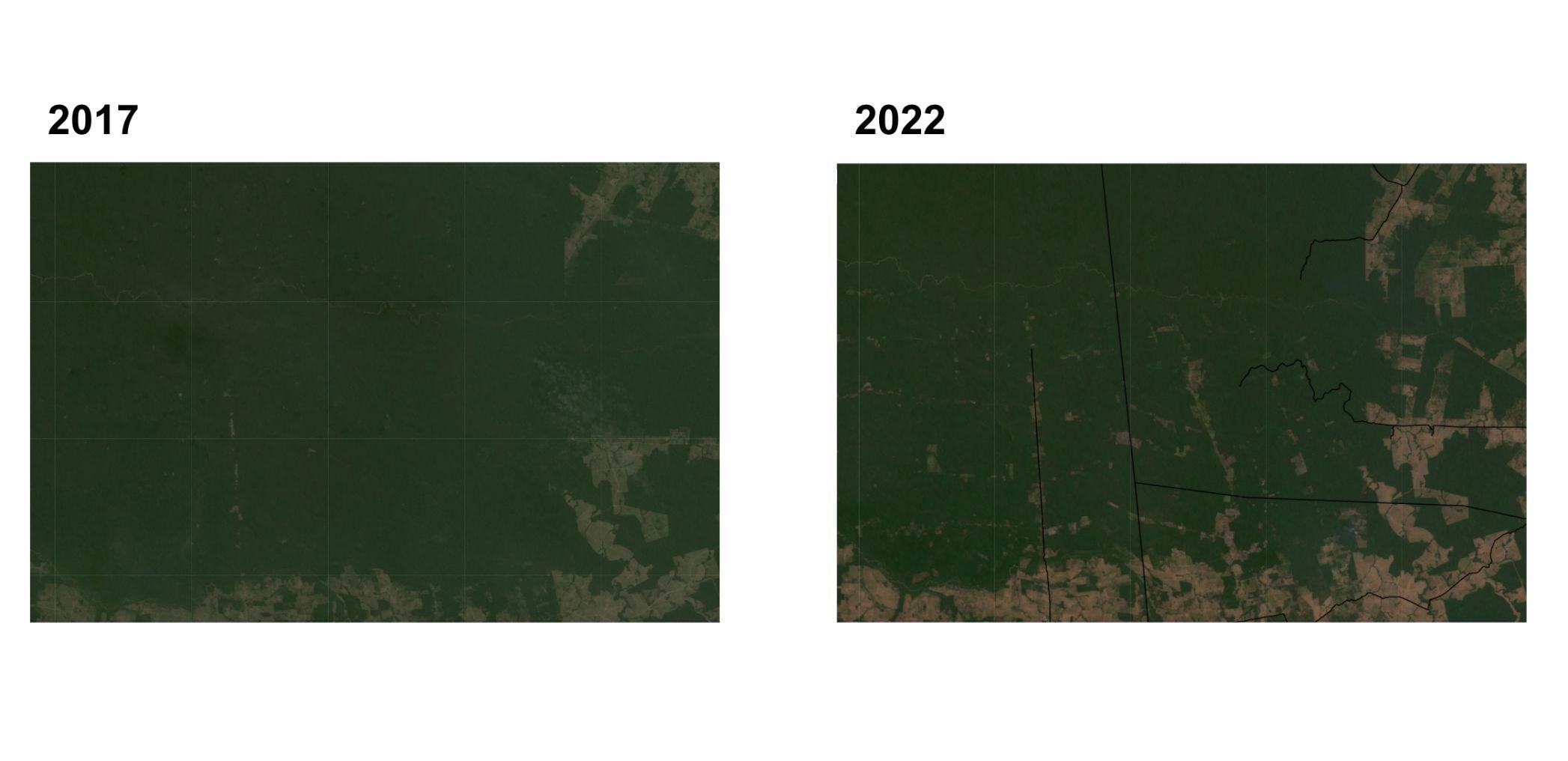 If it was not enough the roads clearly had a correlation on the more fire events that were catched by the FIRMS dataset during those years as well.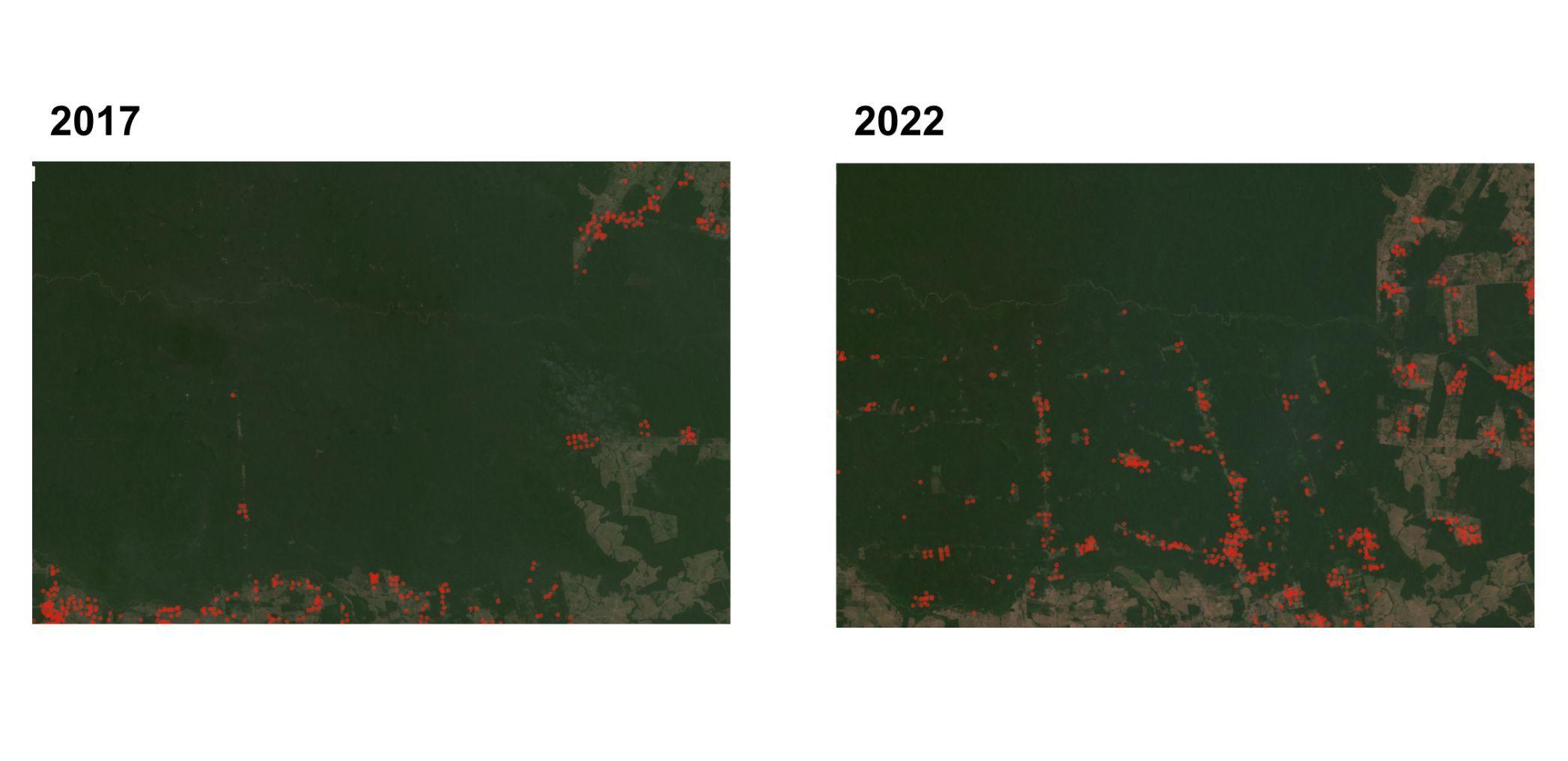 By incorporating geospatial data into their reporting, companies can accurately map the areas affected by road development, identify sensitive ecosystems, and demonstrate their commitment to minimizing environmental damage. This transparency enables stakeholders to hold companies accountable and encourages the adoption of more environmentally conscious practices in the industry.
Conclusion
These case studies provide compelling evidence of the diverse applications of geospatial data in monitoring specific areas under different scenarios. Furthermore, they highlight the potential for geospatial data to enhance ESG reporting, offering insights into the development of specific infrastructure and establishing correlations between infrastructure expansion (in the case of road development) and events such as illegal logging or forest fires leading to deforestation.
It is important to emphasize that the purpose of this report is to showcase the potential of geospatial data, rather than draw conclusions about any company's involvement in illegal activities or the direct relationship between road development and specific organizations.

Geospatial data has become an indispensable tool for ESG reporting, enabling companies to analyze and report on environmental impacts with greater accuracy and transparency. The case studies presented here demonstrate the power of geospatial data in monitoring and visualizing the progression of activities, providing valuable insights for sustainable decision-making and improved ESG reporting practices. By leveraging the potential of geospatial data, we can move closer to a more sustainable and accountable future.