Newsroom
PRESS RELEASE
The project to be able to buy carbon credits via blockchain
Last edited: May 3, 2023
Published: May 2, 2023
It stems from the collaboration between Green Future Project and InvestConservation, who have implemented a new tool that allows for secure transactions and verification of the protection of biodiversity reserves in Ecuador through satellite technology.
Transparency and traceability for the purchase of carbon credits for biodiversity conservation, a necessary element to achieve the United Nations' Net Zero goals: this is the principle underlying the collaboration between Green Future Project, the software-as-a-service (SaaS) platform that offers companies solutions for decarbonization processes, and InvestConservation, the company that invests in the conservation of tropical forests with a high concentration of biodiversity. The two companies have developed a system based on Solana blockchain, which allows companies to purchase carbon credits with secure tracking and, at the same time, invest in the protection of areas with a high biodiversity rate.
"This tool revolves around two key points: blockchain and satellite technology," explains Pietro Pasolini, CEO of Green Future Project. "InvestConservation aims to defend biodiversity hotspots worldwide, starting from Ecuador with these first two reserves, but they are already auditing three more." The two reserves in question are Copalinga and Tapichalaca, in Ecuador, supported by the Fundacion Jocotoco, among the most endangered in the world, and the project is aimed at protecting them, although the goal is to expand it to other areas: "We are already looking at other projects in Indonesia, especially in Borneo, where deforestation is mainly due to palm oil production. Ecuador is currently a starting point with these two reserves, but biodiversity concerns the whole world. InvestConservation deals with primary forests within the tropical belt. We are auditing some projects in sub-Saharan Africa and in the northernmost parts of Madagascar. Obviously, we are also considering Brazil. There is also an interest in expanding to other Latin American countries," continues Pasolini. Green Future Project's projects are based on three essential indicators: biodiversity, the project's CO2 absorption capacity, and social development through the territory, i.e., how it involves the community.
Not only does the blockchain's traceability, the tool also offers continuous monitoring so that private individuals or companies can verify that their carbon credits are being used for concrete biodiversity protection actions, thanks to Orbify's satellite technology. Companies can continuously monitor their projects through access to Green Future Project's platform, where they can access scientific information, the project's status, and share results on their social channels from an edutainment perspective. But let's see together how the blockchain transaction will take place, what the advantages of this new method are, how the monitoring by Orbify will work, and which companies are participating in the project.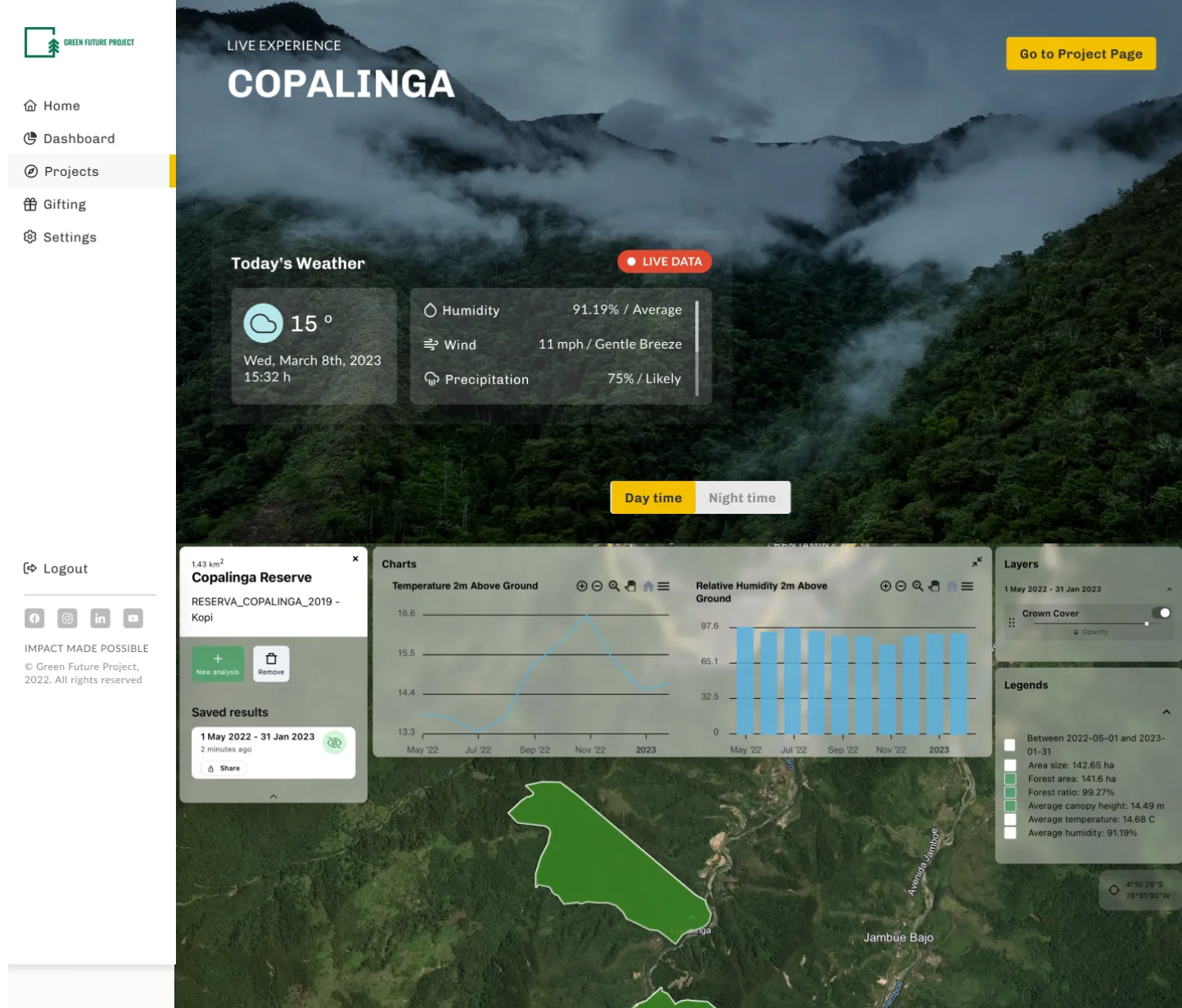 How it works
The advantages of blockchain
The role of satellite technology
The spread of the tool
How it works
Thanks to this new tool, based on Solana blockchain, on Green Future Project's platform, companies or individuals can access a mechanism that issues an NFT for every hectare of forest they want to protect, which corresponds to the protection of that piece of land for 50 years and its carbon dioxide absorption capacity. 90% of the transaction registered on the blockchain for each NFT is donated to the landowners who, by receiving the money, will be incentivized to protect the environment.
The advantages of blockchain
"The blockchain provides transparency on who holds the credits and allows any company to buy credits directly from the source," explains Pasolini, who also refers to the Guardian's January investigation into Verra carbon credits, which turned out to be worthless. "One of the biggest problems with the Verra market is that almost one-third of the value of a credit purchased by a final company that uses it for compensation ends up with financial intermediaries (and therefore funds that buy these credits as assets) rather than the climate solution." Hence the advantage derived from the use of blockchain: "Through blockchain, everyone can go to the source, and thus a huge problem of economic inefficiency is solved. It reduces the risk of double-counting: that is, that a company uses the offset credit and then resells it. Through the transparency of the blockchain, when a company buys a credit for offsetting, that credit is burned, withdrawn on behalf of the company, and cannot be resold. Therefore, blockchain allows transparency and traceability."
The role of satellite technology
As mentioned earlier, one of the advantages of using Orbify's satellite technology lies precisely in continuous environmental monitoring: "The problems that the Guardian highlighted about Verra, which today accounts for 85% of the voluntary credit market, are related primarily to project auditing and overcrediting, that is, assigning a greater value in terms of CO2 tonnes and the risk of deforestation to forests. With satellite technology, the risk of deforestation can be quantified in a simple, objective, and fairly rapid way." In this way, according to Pasolini, there would also be a reduction in costs and an increase in transparency, "because satellite technology is open source. The Esa's satellites are accessible to anyone because the Esa itself is financed by taxpayers. This level of transparency allows anyone to check that the projects truly have an additional value."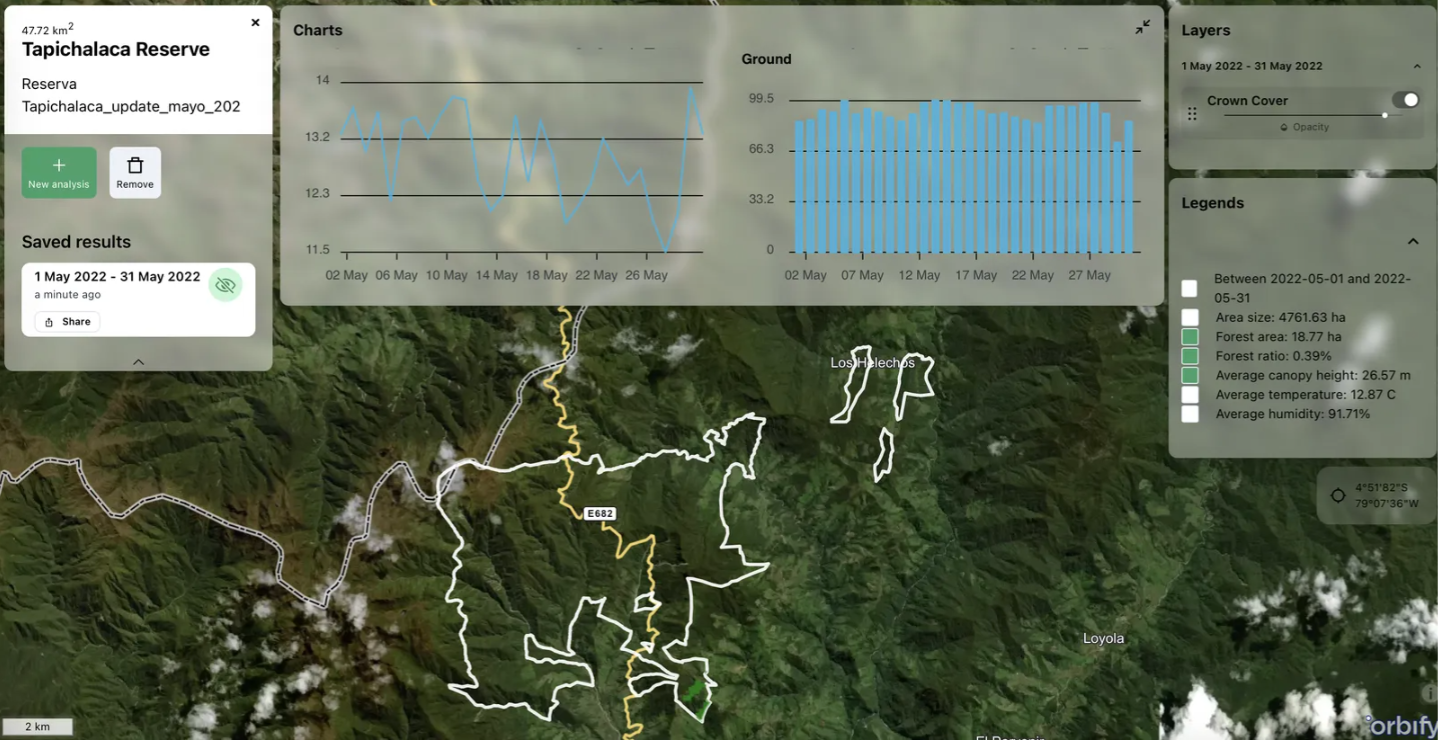 But how will this monitoring work? "For a register to be transparent, it must have a third party that performs a check, which is what was missing from Verra," continues Pasolini. "InvestConservation relies on Orbify, which uses Esa, Geda, Copernicus (two of the newest satellites that have gone into orbit), but also on those of NASA, not only to carry out an initial audit on the quantity of CO2 and the risk of deforestation of primary forests, which is then intertwined with a scientific audit carried out on the territory on a quantity of CO2, but also sends an annual report to all credit owners." This happens precisely because, since landowners are paid based on the protection of the area, it is necessary to verify that the land is truly protected and that, for example, there is no illegal deforestation or forest fires. "Thanks to satellite technology, all this information can be verified. The report is delivered to everyone for total transparency. Satellite technology is intertwined with scientific expertise of people who analyze the data and make them public to everyone."
The spread of the tool
"The tool has just started, and there are still a small number of companies supporting these biodiversity tokens," Pasolini adds. "However, we are in contact with large private equity funds that want to invest in this tool as a financial tool because they believe that biodiversity will be one of the most important economic values in the future. But we are also talking to one of the Big Four in fashion because the Fashion Pact, the pact that brings together the most important fashion houses worldwide, has as a priority the protection of biodiversity within the production chain itself. The focus on its biodiversity is finally starting to take hold through different sectors and different sizes of companies" he concludes.
Source: https://www.wired.it/article/crediti-carbonio-blockchain-biodiversita-ambiente/amp/
Article translated to English
About Orbify
Orbify is a geospatial data platform (GDP) designed to evaluate, monitor, and market natural assets. Our platform provides customers with easy access to ready-to-use remote sensing data analysis, powered by cutting-edge machine learning models that offer precision, speed, and convenience. The platform delivers instant, actionable insights by providing a comprehensive dashboard of remote sensing data analysis, based on your project's specific geo coordinates. Our diverse range of environmental indicators includes everything from land use analysis to natural hazards assessment, and even biodiversity tracking. Our major customers are NbS developers and operators, sustainable development & ESG teams, as well as insurance companies.
Make better decisions with Earth Intelligence apps!
Press contact
Orbify PR
press.release@orbify.com